Things to do on the Costa del Sol
So what will you do when you come to stay or live in your new house on the Costa del Sol? For adults the main atractions are eating out and the beach, and there is a wide variety of activities for children too.

Eating Out
The Costa del Sol boasts a huge variety of restaurants, hotels and tapas bars which cater to all tastes. In particular, look out for the chiringuitos (beach restaurants) where you can tuck into fresh seafood while you watch the sun go down over the sea.

Fun days out for kids
Here are some of the best places to take your children on the Costa del Sol.
Tivoli World A huge fairground which covers almost one hundred thousand hectares. All the usual rides are here including a roller coaster and a ghost train, plus there The Twister, The Mysterious Ship, Jurassic Adventure, The Dragon (with eight metre high loops), Children's Pirate Park and The Jungle Express. There are also regular shows, three theatres and numerous restaurants.

Torremolinos Aquapark.
Featuring large green areas for parents to sunbathe; numerous swimming pools; one hundred metres of fantastic tubes with sharp drops and unexpected turns; the 'gran cañón', where you can take inflatable rafts down cascading water channels; the 'kamikaze', probably the highest water toboggan in Europe at over twenty-two metres high and with a fifty percent gradient; an assortment of water slides; a wave pool; a tropical lagoon; and a Jacuzzi.

Parque Acuático de Mijas.
Between Marbella and malaga, this park has a full array of water slides and other attractions (Kamikaze, wave pool, a labyrinth of toboggans, Children's Waterland, Adventure River....) and also has facilities for picnics and other activities, such as volleyball, mini golf or indoor games.

Selwo Aventura.
Located in Estepona, Selwo features very large enclosures in which you can see lions, hippopotamuses, Bengali tigers, ostriches, antelopes, brown bears, camels, elephants and much more. The visitor can choose from five different routes leading through a variety of "ecosystems". Plus you can practise adventure sports like rapid abseiling with Europe's longest fixed cable, archery, rock climbing, adventure treks or camel riding. Visitors can also stay in these unique park surroundings for a longer period, lodging in one of the typically decorated huts. Nature lovers can take part in courses on ecological topics including camping in the wilderness and lectures about Nature.

Selwo Marina.
This gorgeous park spreads out on two hectares and forms part of the municipality of Benalmádena. Her you can see the marine world and exotic birds from South America. Especially attractive are the pools dedicated to dolphins and sea lions, where shows take place on a regular basis. There is also a special habitat for penguins covered with ice - recreating the normal life conditions of these peculiar species. Plus there is a special virtual reality zone with 3D features as well as an underwater observation centre where it is possible to study the peculiarities of the marine fauna.

"Las Navillas" Leisure and adventure park
This new leisure centre opened its doors to the public in 2002 and is located in one of the most beautiful nature areas of southern Spain, the Torcal of Antequera. There are quite a few adventure activities, which take place in close contact with nature. The offer includes adventure sports for beginners as well as for the more experienced, always under the supervision of skilled monitors. Among these activities, there are routes with quads, paintball, horse riding, archery and observing animals. There is also an "adventure kindergarten" supervised by specialised monitors, for children aged 5 and up..

Zoo in Fuengirola.
In this natural habitat with lots of water and vegetation, 250 animal species live together in semi liberty: In this beautiful zoo, you can see crocodiles, tigers, apes, lemurs, butterflies and much more. The area is divided in three different zones: The island of Madagascar, Equatorial Africa and Southeast Asia. This fantastic park follows a new design called "zoo immersion", where the visitor is able to roam freely among most of the animals. Furthermore, it is the only zoo in Europe, which can be visited by day and night, so for once you can actually see the nocturnal animals doing things other than sleeping.

Crocodile Park.
Featuring species from Africa, Asia and America and the giant crocodile from the Nile. The crocodiles live on an area of over twenty thousand hectares located in the most important fluvial valley of the province and it is situated within very easy reach of most of the Costa del Sol.

Sea Life Centre Benalmádena.
An interactive water park which allows you to walk across the bottom of the sea and gaze at almost three hundred thousand aquatic species from the Atlantic, Pacific and Indian Oceans and the Red Sea. There are more than thirty tanks of different sizes that accurately recreate the natural surroundings of the sea life that inhabits them. The Ocean area contains different types of sharks, moray eels, turtles and other endemic species. The Tropical area is filled with surprising colours and unexpected creatures such as balloon fish, butterfly fish, stonefish, surgeonfish, sea horses, etc. In the Invertebrate area, there are anemones, jellyfish, large shells, octopuses and crabs. They have one of the species of crabs in here that is one of the oldest on the planet at over 500 million years old.

Aula del Mar.
Similar to the Sea Life Centre in the fact that it tries to promote the protection of the natural sea environment. It offers a variety of educational workshops and has an unusual school in the shape of ship. The museum has five rooms, which catalogues the remains of over a thousand species of sea animal. There are giant squid, the jaw of a tiger shark, the tail of a fox shark, turtle shells, the skull of a whale with an intact vertebral column and many other archaeological remains.

Centro del Mar.
This theme park, also in Benalmádena is an addition to the Aula del Mar. It is a learning centre, based on the principal to teach the conservation of nature. Unlike the one in Málaga, this one is located right on the beach. It offers a wide variety of leisure attractions, especially for children, with guided visits of the centre and excursions to the open sea. It also features an oceanographic laboratory, which allows a direct contact with endangered species from the oceans including octopus, sea turtles and groupers. There are also workshops and exhibitions about the life in the oceans aimed at a greater understanding of marine ecosystems, biodiversity and the richness of the sea.
---
© Copyright 2006 - All Rights Reserved - buyspain.co.uk

UK Office: Buy Spain, Pum-erw-Road, Cardiff, South Wales
Tel: 02920 256 096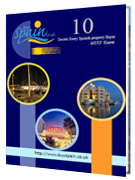 10 Secrets Every Spanish Property Buyer Should Know
Get your FREE copy of this report
here