Holidays in Spain with Children
For obvious reasons Spain persists to be the number one holiday destination for British parents. However, despite the fact that Spanish are a child-loving nation, their facilities are not always child-friendly. They are improving but they are still not at the level that we now take for granted in the UK.
Spanish Restaurants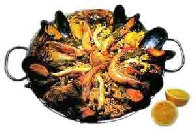 Firstly, in restaurants you will find that the Spanish are generally very tolerant of young children's behaviour. Waiters tend to be quite good-humoured with children running around the table whilst their parents are eating. Nevertheless, the restaurants are not designed with children in mind and neither is the menu.

For starters (pardon the pun) children are expected to order from the same menu as their parents. In other words, there are no special children's menus complete with colouring in packs! If you ask, the waiter will usually advise you as to which dishes are suitable for children.

The Spanish menus usually have an impressive array of fish dishes, be careful with bones and small children; pez espada (swordfish), atun (tuna fish) are the safest bet. Tapas are ideal for children because it enables them to sample lots of different tastes in miniature portions. We recommend tortilla Espanola (potato omelette), albondigas (meatballs), revuelto (scrambles egg), calamares (squid deep fried in batter, safe but maybe a bit chewy), jamon (ham) and queso (cheese which is perfect for little nibblers).

With regards to cutlery and crockery, you may want to bring your own plastic forks and knives as children are expected to eat with 'grown-up' cutlery from 'grown-up' plates. The same goes for drinks. It is a good idea to bring toddler beakers as drinks are served in either glasses or direct from the manufacturers glass bottle with a straw.

Try to get your toddler used to sitting on a chair, as you'll be hard pushed to find restaurants with highchairs unless you plan to spend your entire holiday dining out at the fast food chains. A good idea, but slightly awkward, is to take one of those plastic seats that you attach to chairs or the fabric ones that can be screwed onto tables. Bear in mind that there will be some people on holiday who still expect children to be seen and not heard so you may want to bring your own supply of crayons and paper to use as a distraction if your little ones start to brew. If you are going to have breakfast out, make sure you try 'churros con chocolate', long, strips of sweet batter that you dunk into thick, gooey chocolate that children will love. They're a bit messy so don't forget your wipes.
Hygiene in Spain
On the subject of wipes, you can buy them in any of the supermarkets out here so there's no need to carry out a whole holiday worth. Bear in mind that your children will be in a different environment and probably in an adapted routine, so you may have to be more vigilant with hygiene i.e. washing hands more often etc.

It is a good idea to carry a pack of wipes and a bottle of hand wash that doesn't require water, try Mercadona supermarket (cheap supermarket). You may also want to add some toilet paper/tissue to your daily survival package as Spanish toilets are often lacking in the basics.

In addition, the baby changing facilities that we now take for granted in the UK are very few and far between. When out shopping, you are most likely to find baby changing facilities in El Corte Ingles department store. The Spanish tend to change their babies' nappies on the lie back position of the pushchair, so it can be pretty awkward if you have a stroller with you.
Getting about with a pushchair

As far as pushing a pushchair around, it can be awkward especially if you have a double. In my own experience, I have often come across flights of steps with no alternative ramp entrance/exit.

Also, doorways into shops can be very narrow; however, the Spanish do tend to be quite helpful if they see you struggling with small children.
Entertainment and activities for children

Providing you get good weather on your Spanish holiday, entertaining children is fairly straightforward. In the Costa del Sol, there are two huge aqua parks (Mijas, Algeciras), Zoos (Fuengirola, Estepona), cable car rides (Benalmadena, Gibraltar) and of course, the beach.

You may even fancy taking them with you for a game of golf! However, although we reportedly have three hundred days of sunshine, we also have more than two months worth of bad weather. If you do get caught out, there's no need to write your holiday off, especially in the Costa del Sol.

For under eights, Agro Jardin is a really fun garden centre just off the N340, near Estepona. It is ideal for a rainy couple of hours. There is a pet shop section and a coffee shop with a ballpark and slide. Camelot Park, Puerto Banus opposite the department store El Corte Ingles is also good fun. You could always spend a couple of hours in La Canada shopping centre in Marbella. Upstairs in the centre, close to the toilets, there are some kiddie rides. On this level, you will also find Spain's equivalent to the Early Learning Centre 'Imaginarium'.
Be prepared
Travelling with young children is always a challenge. In order to make the most of your Spanish holiday, the more prepared you are the better. If your baby drinks formula milk, it is wise to bring your own from the UK. Although, there are some equivalents for the UK brands, you may not find what your child is used to.

So, prepare yourself in advance and change your routine to really make the most of your Spanish summer holiday!
Have fun on your next holiday in Spain with the kids. See you next time!